TEACHING: MIT COURSE "HISTORIES OF HERITAGE"
Role: Lecturer, Content Producer
Institution: MIT
Funding: Mellon Foundation
This year I was part of a teaching team that included Professor Peter Probst, Chair and Professor in the Department of Art History, Tufts University, and Professor Michelle Apotsos, Assistant Professor in the Department of Art, Williams College. We developed an undergraduate course titled "Histories of Heritage: Architectural Conservation and Historic Preservation in a Global Perspective" for the "Global Architectural History Teaching Collaborative" or GAHTC at MIT. The GAHTC is funded by a grant from the Andrew W. Mellon Foundation and administered by MIT's School of Architecture and Planning and its History Theory and Criticism Program. The course was conceived to be a semester/term long and aimed to provide an introduction to the growing importance of historic preservation.
The course itself is conceived as a 12 lectures long module organized around different themes of cultural heritage preservation. The lectures are organized around case studies, which focus on selected objects of architectural conservation/preservation. Case Study Countries Include:
Ani, Turkey
Abelam Houses, Papua New Guinea
Abu Simbel, Egypt
Acropolis, Greece
Auschwitz Concentration Camp, Poland Chichen Itza, Mexico
Church of Nativity, Palestine
Djenne, Mali
Dresden / Elbe cultural landscape, Germany Hangzhou, China
Havanna/Old Town, Cuba
Ise Shrine(s), Japan
Las Vegas USA
Anasazi Settlements/Mesa Verde, USA Notre Dame, France
Osun Osogno, Nigeria
Palazzo Ducale, Italy
Preah Vihear, Cambodia
Rani ki Vai, India
Te Hai Ki Turanga, New Zealand
Robben Island, South Africa
Venice, Italy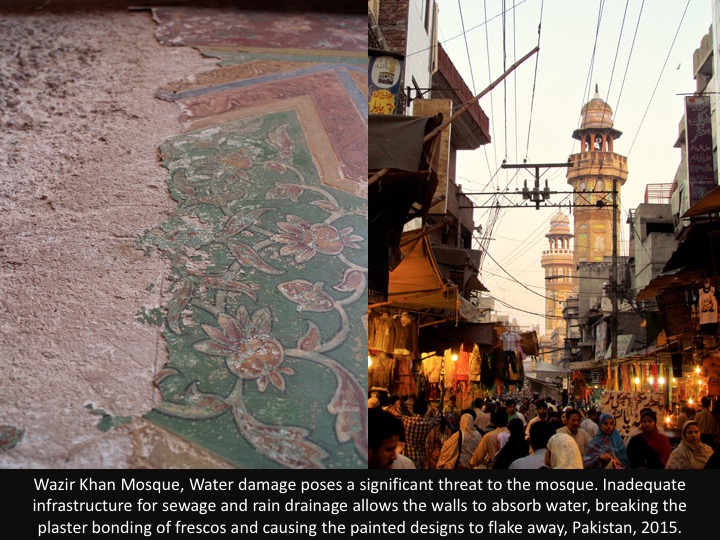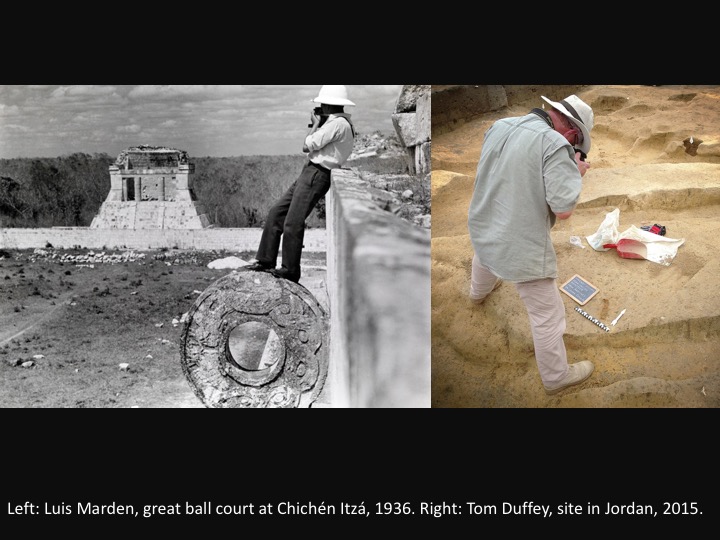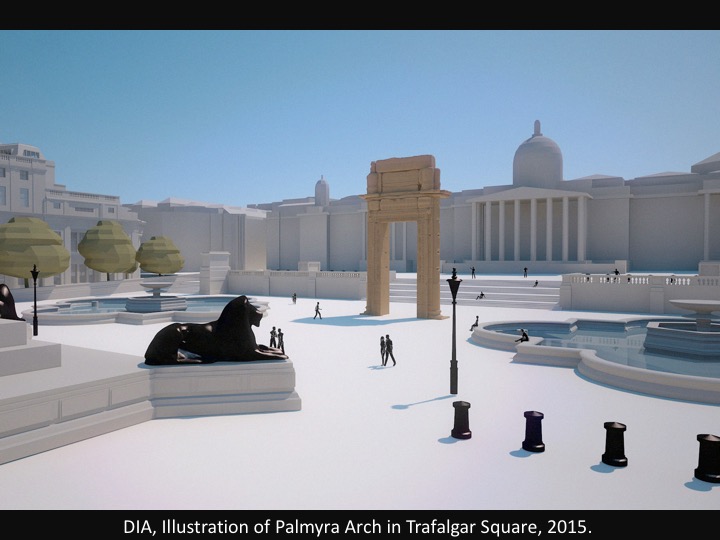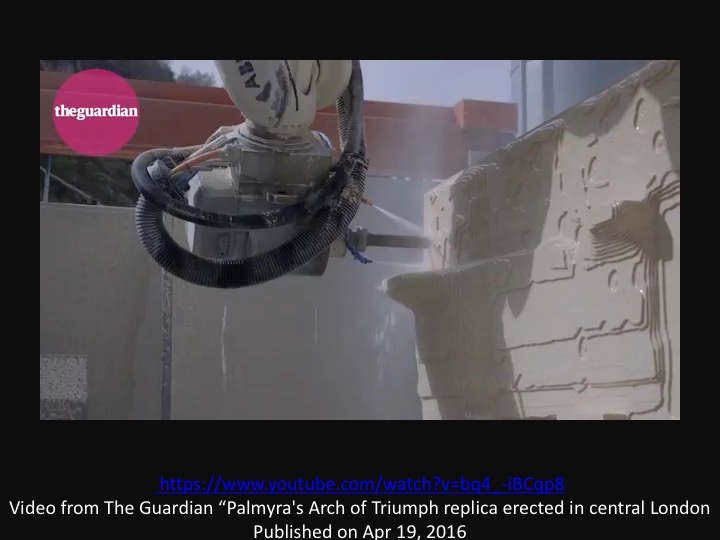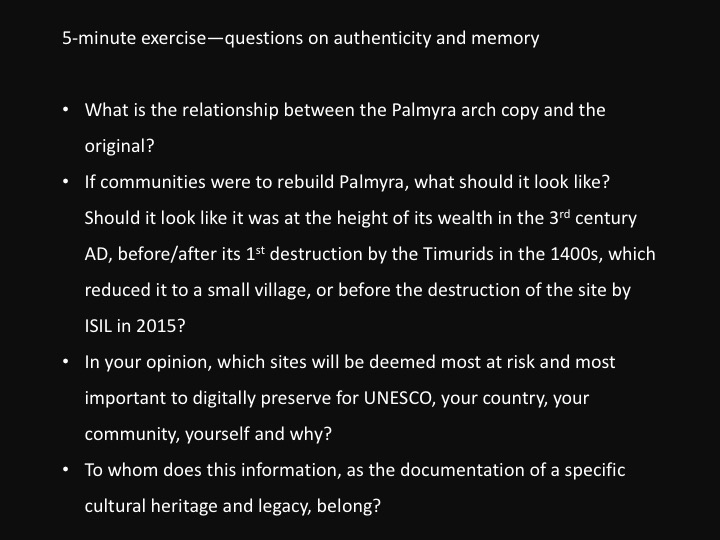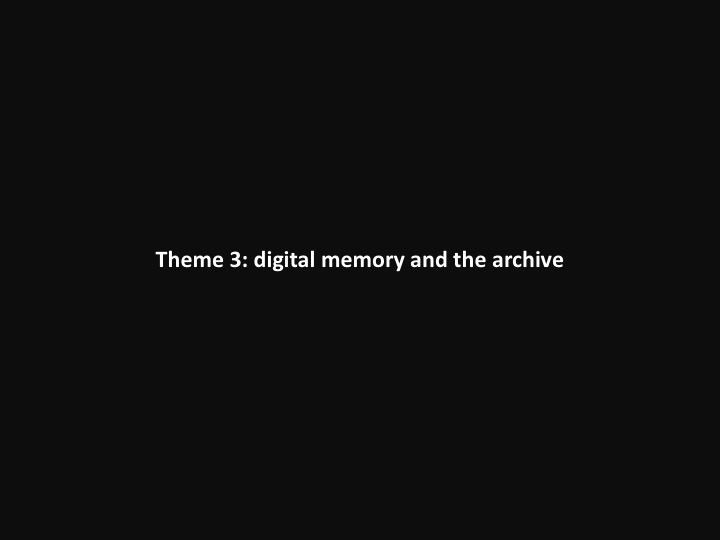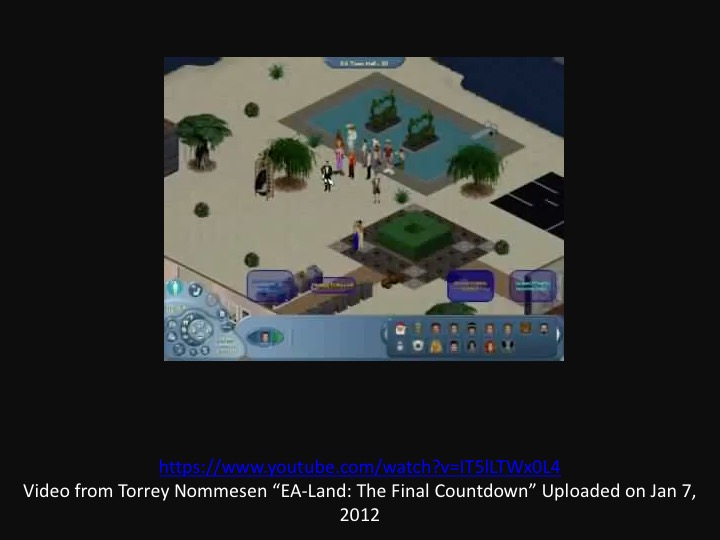 Lecture 1 Longings: Preservation as a Global Movement
Heritage as a global movement; critique, concerns and hopes associated with heritage; the different words and meanings of heritage; the range of objects classified as heritage.
Case Studies: Abelam Houses, Papua New Guinea (20th c; vernacular architecture, sustainability) Abu Simbel in Egypt (13th BC and 20th c; postcolonial nation building, monumentalism, permanence) & Ise Shrine(s) in Japan (since +/- 9th c; Nara convention, impermanence and renewal), and Auschwitz concentration camp in Poland (20th c; trauma as heritage)
Lecture 2 Origins: Heritage and Nationalism in 19th Century Europe
The rise of the preservation movement during the 19th c in conjunction with the emergence of nationalism; the experience of war and the necessity of protection, developments in Europe
Case Studies: Notre Dame in Paris/France (12th/13th c & mid 19th c; Viollet le Duc Victor Hugo), Palazzo Ducale in Venice/Italy (architectural metamorphosis from 12th c to 19th c; Ruskin, Morris and Riegl), Acropolis in Greece (500 BC; 18th century interest in antiquity, first ICCROM meeting 1934)
Lecture 3 Expansions: The Need for Heritage outside Europe
The rise of the preservation movement during the 20th c in Africa, Asia and the Americas Case Studies: revisit of Abu Simbel in Egypt (13BC & 20th c; postcolonial nation building), revisit of the Ise Shrine(s) in Japan (9th & 20th c; post WWII nationalism), Mesa Verde in the US (12th c; US focus on nature and landscape/national park service)
Lecture 4 Elevations: The Listing (and Delisting) of UNESCO Heritage SitesHow architectural conservation and historic preservation work on different levels (local, national and international); the question of "stakeholders," discussion of the categories and criteria of heritage like cultural landscape, authenticity, integrity, etc. Case Studies: Osun Osogbo cultural landscape in Nigeria (20th c; inscription on the UNESCO World Heritage list) & Dresden Dome and Elbe valley, cultural landscape in Germany (18th c; deletion from the UNESCO World Heritage List)
Lecture 5 Frictions: The Power of Preservation Regimes
The normative power of architectural conservation and historic preservation regimes, how they infringe on life words of the people living in sites declared as heritage
Case Studies: Djenne Mosque in Mali (16th c & early 20th c, friction between local, national and international heritage regimes), Chichen Itza in Mexico (15th c & 20th c, local community efforts and national programs, Dresden Elbe Valley in Germany (18th c, community protests)
Lecture 6 Materialities: Preservation and the Aesthetics of Memory
The importance of materials as carriers of meanings and memory, the relationship of media and mediation, memory as a social activity, reflections of the cultural dimensions of conservation
Case Studies: Revisit of Notre Dame in France (13thc & 19thc), Abu Simbel in Egypt (13 BC), extension to Mastaba (stone and iron in relation to death, kingship and the longing for permanence / eternity), Djenne Mosque in Mali (16th c & early 20th)
Lecture 7 The Intangible: Beyond the Built Heritage
The Immaterial and the question of "intangible" heritage, the importance of the Nara conference on the relativity of authenticity and integrity, identity politics and the move against Western masterpiece monumentalism
Case Studies: Revisiting the Djenne Mosque in Mali (15thc & 20thc) and the Ise shrine(s) in Japan (9th c & 20th c; mud, wood, impermanence, materiality and intangibility)
Lecture 8 Values: Inalienability versus Commodification
The value of preservation, ideas of inalienability, the conversion of values: from cultural to economic value, heritage and tourism, revitalization and gentrification
Case Studies: Revisit Venice (20th & 21th c, issues of gentrification), Havanna (urban revitalization)
Lecture 9 Justice: Preservation, Recognition and Trauma
The multiple and entangled functions of heritage in terms of cultural identity, political recognition, and social remembrance, the idea of difficult heritage and the moral duty to remember
Case Studies: Robben Island in South Africa (20th c), Church of Nativity, Bethlehem in Palestine (6th c and later, Palestine identity), revisit Auschwitz (20th c, trauma)
Lecture 10 Properties: Disputes over Ownership
When the past becomes a property, concepts of cultural property and restitution issues, the issue of universalism in terms of universal museums and universal heritage postcolonial questions, iconoclasm
Case Studies: Revisit of the Acropolis and the Parthenon issue (19th c, national competition, plundering of antiquities), Ani in Turkey (10th c, Armenian genocide and displacement), Preah Vihear in Cambodia (11th c, border disputes)
Lecture 11 Copies: Cultural Takes on Originality
The traveling of heritage, the idea of "original copies," theme park architecture in China and the US, cultural takes on authenticity
Case Studies: architectural mimicry in contemporary China and US/ Las Vegas (20th & 21st c, cultural takes on copying, authenticity and ownership)
Lecture 12 Futures: Vision, Virtuality and Digital Heritage
The importance of images for the idea of heritage, photography as a technology of heritage, digital heritage, heritage as an image machine, digital heritage as a result and critique of the universal museum Case studies: Pakistan, Syria, digital preservation libraries, and online virtual worlds